My friend wanted my to post this. He took part in the HP Freshman 15 contest last year. Check out
Cooking for Engineers
and
the contest page
itself. Originally, he had it on another blog, but had some difficulty with it. So, I'm going to help him and re-post it here. So, here it is:
Here's my entry for Cooking for Engineers HP Freshman 15 giveaway.

I didn't want to overload the comment section on their website, so I put all the details and more pictures on this blog instead. Enjoy the pictures and explanation of the process of each.

Inspiration:
I wanted to use several different dishes and techniques to give a unique take on the challenge. Also, I wanted the food to be as delicious as well as eye-catching. All the dishes presented are edible with no trickery or shortcuts used to make the food look better at the expense of taste. In fact, I will be eating all the food after taking its picture.


Cooking:
The shelf in the corner of my table made it necessary to split the word into two pieces. The word takes its look from an appetizer tray. The first four letters are made from place food finger food in various poses
C - Crackers cascading on each other
O - Cheddar cheese stacked in a circle
O - Cucumber stacked in a circle
K - Cut carrots
The cucumber also has half its skin cut off. This makes it easier to eat if the skin is tough while still showing some green.
The last three letters are made of dips for the veggies. They are ketchup, ranch, and hoisin sauce. Ketchup is not really appropriate, but I ran out of sauces. Hoisin sauce is a spicy Asian sauce that I usually use for spring rolls.
I also have two flourishes in the corners. These were made from green onions. To make one, take a two inch piece of green onion, and cut from one end towards the middle to split one side. Repeat so that the shaft is now in four pieces on one side, but still whole on the other. Soak in water for a few minutes to curl.
For:
The preposition is made from macaroni and cheese with broccoli. I love mac and cheese, and make it with a few additions. Typically, I added chopped broccoli and carrots. Usually, I would cook the macaroni as the box stated and add the carrots at six minutes remaining and broccoli at four minutes. That way, only one pot is used. This time, I cooked them separately so I could spell "for".

EN:
First part of engineers. Even though two letters, there are three parts. The "E" is made from bread and spring rolls. Check the .com section later for details on the bread. The spring rolls make the prongs of the "E". Spring roll wrappers are basically rice noodles pressed flat. They come in dried thin sheets. When soaked in water, they become flexible and translucent and can be folded like a burrito. In the picture, I used boiled shrimp and rice noodles as the filler. Other fillers I've used are lettuce, bean sprouts, mint, and pork. Typically, I use a 50/50 mixture of peanut butter and hoisin sauce as a dip for spring rolls.

The "N" is made from chopsticks. While not technically a food item, I felt that Asian foods were under represented in relation to how important they are in my life. Plus, owning non-disposable chopsticks and knowing how to use them is cool. Quick tip: you can use chopsticks to eat chips and popcorn and not get your hands covered in seasoning.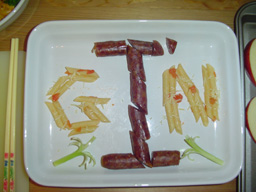 GIN:
More green onion flourishes. See Cooking for details.

The "G" and "N" are made from penne rigate pasta. The pasta has been pan-fried with tomatoes and garlic, and topped with parmesan cheese.

The "I" is made from Chinese sausage that has been steamed in a rice cooker. Chinese sausage is a dark red meat product that is dense, and typically contains a good amount of fat. It is rich is flavor, with a taste of sweetness. Typically, I prefer to fry the sausages until cooked, and cooking the rest of my meal with fat lost from the sausages to impart its flavor on it.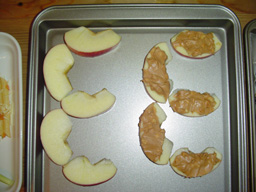 EE:
Getting to the desert portion of the meal. The two E's are both made from apply slices. The first is plain apple while the second is apple slice with peanut butter. Simple, yet delicious.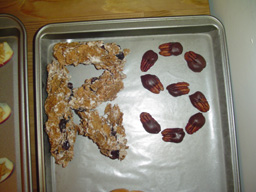 RS:
Two more deserts form the R and S. The R is made of raisin bran treat, which is rice crispy treats, but with raisin bran. Pretty much any cereal can be subsituted here. The S is made from pecan halves half dipped into chocolate. The dot in dot com is made from the same pecans, but is fully covered instead.

.com:
The end at last. The dot is made from three pecan halves and dunked in chocolate. The "com" and the backbone of the first "E" in engineer is homemade bread. Story time...

Last week, I scoured the Internet for something to try, as I am prone to due when boredom strikes. The idea formed that I should make some bread, and for good measure, make a braided loaf. A simple three braid should suffice, with the 4+ strands for later. I went looking for a simple bread recipe. Maybe Cooking For Engineers would have one. They do, but it is for banana bread and garlic bread. But look, another interesting article catches my eye. A contest? For laptops? Sounds like fun. Need camera, details to follow.

Later, recipe found, but bread not made yet. Back to see details of contest. Requires picture with cookingforengineers.com in it. I can do that. I'll make bread .com and put cookingforengineers next to it. Brilliant!

As bread is baking. That first idea sounds good, but it might not win. It needs to be bigger. I know, more food. Not just bread, noodles! and chocolate! and carrots! This is going to be fun!
Read more...